Pendulum summoning the new summoning system introduced in the new anime Arc-V which means the 5th Arc or story. The rules to pendulum summoning sounds quite complicated but it really isn't.
To pendulum summon one requires pendulum monsters these monsters have 2 values, a (left) blue value and a (right) red value, these care called scales.
When a pendulum monster is placed on the left pendulum zone, the blue scale is used and if placed on the right, the red scale is used.
Once per turn, during main phase 1, the turn player may special summon any number of monsters in their hand and/or any number of pendulum monsters in the extra deck which level is between or equal to the blue scale + 1 and the red scale -1. if the difference between the scales is 1 or less then you cannot pendulum summon. Here's a pictorial example of what I just explained: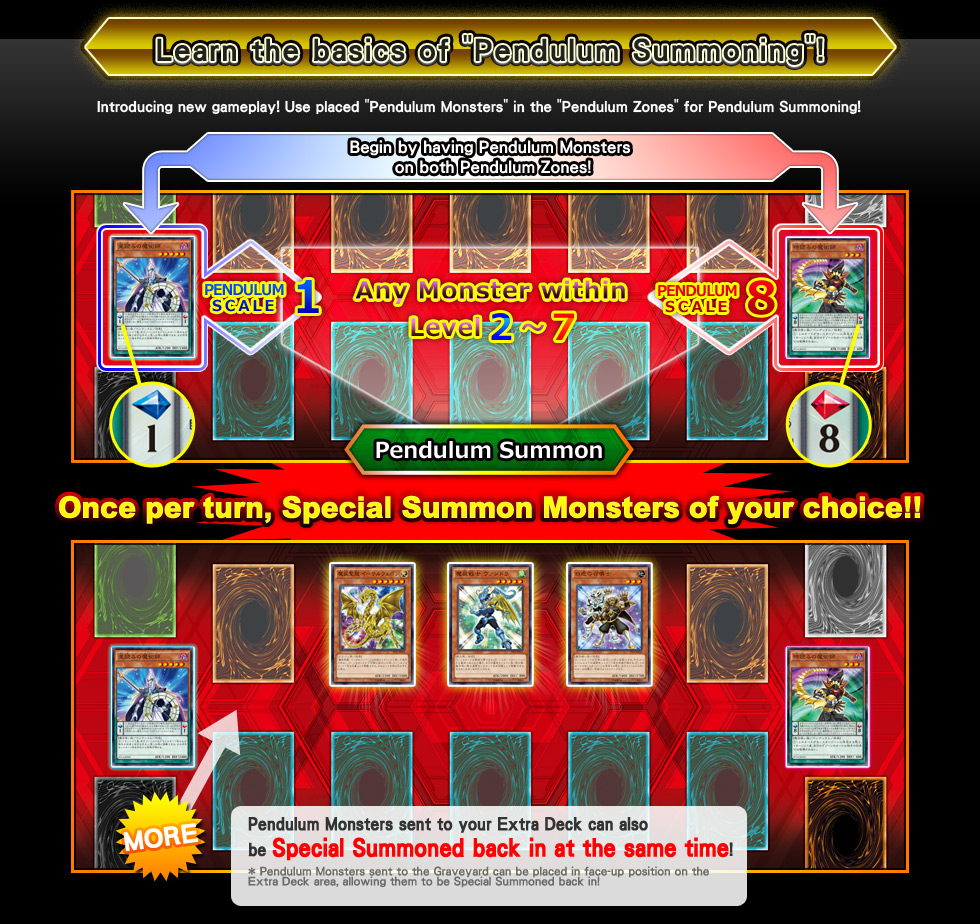 Solemn Warning cannot be used to negate a pendulum summon since it says only negates one summon unless the pendulum summon was of one monster. It cannot use it's second effect because Pendulum summoning is not an effect.
Bottomless Trap Hole can banish all pendulum monsters since it can target numerous monsters with 1500 attack or more.
When a Pendulum Monster (even if it is face-down) would be sent from the field to the Graveyard, either as a Monster Card or Spell Card, it is placed face-up in the Extra Deck Zone instead. (Pendulum Monsters can cause the total size of the Extra Deck to be larger than would be allowed during Deck building.) If a Pendulum Monster is sent from the hand, Main Deck or Extra Deck to the Graveyard; has its activation as a Spell Card or Summon negated; or is detached, it is sent to the Graveyard like normal. A Pendulum Monster in the Extra Deck Zone can be Summoned again by Pendulum Summon, as long as its Level is within the Scales.


Last edited by Resurrēctiō De Phoenicem on Sun May 18, 2014 7:54 pm; edited 1 time in total